Age: 25 (ahhh!! Almost 26)
Mountain View, CA
Attorney
 
Tell us about yourself!
I am 25, originally from Orange County, a year out of law school now (I went to USF Law in SF and Villanova undergrad in PA), and I work for Sequoia Capital in Menlo Park as a Junior Compliance Counsel, which is definitely not what I expected to be doing, but has been an amazing opportunity and learning experience right out of law school! But, let me just say – it's also been a HUGE adjustment from 7 and a half straight years of making my own schedule and living the more "college" lifestyle. I live in Mountain View for now, but want to move back to SF soon, and I have a 4-year-old cattle dog named Mara, who is the love of my life.
When did you discover fitness & healthy living and decide to make it a part of your life?
I grew up riding horses, playing some sports (baseball and basketball for a year here and there…poorly), and I ran cross-country (also, very poorly) for two years in high school. My parents went to work out with a trainer once a week (and I joined them), so I always knew about fitness but I was definitely NOT a health person. I worked out a lot my senior year of high school, gained weight when I spent some time in Paris, worked out a lot my freshman year of college to lose the Paris weight, and then I fell in love with boxing and kickboxing my sophomore year of college, but I lost sight of it when I went to Scotland to study abroad my junior year. I still worked out until I hurt my back later that year and developed a thyroid condition.
My weight fluctuated over the course of high school and college after injuring myself and going through some medical issues (more below), so I didn't truly dedicate myself to health until mid year-senior year of college (after a Christmas breakdown). It's been a journey ever since, and I haven't looked back. It's now a mental thing too. Yoga quiets my mind, which as an attorney is constantly running.
My best friend introduced me to SoulCycle when I visited her in NYC the first semester of my third year of law school. I cannot imagine living without it now. There's nothing like getting to escape into a dark room for 45 minutes and dance out all my problems or celebrate all my joy. Whatever I need in life that day, I know that the Soul community is there for me.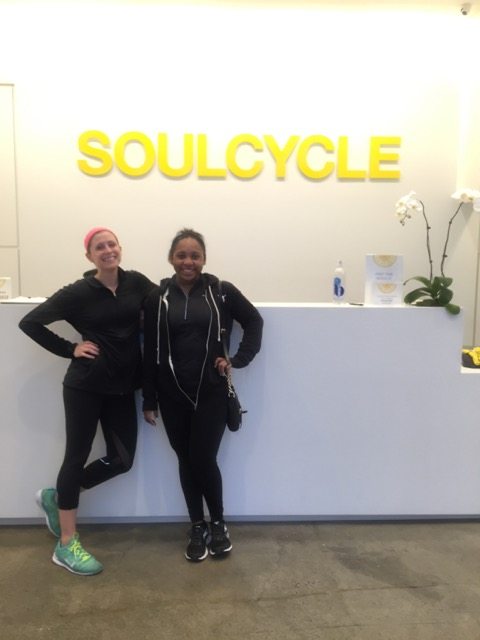 How has exercise and healthy living increased your confidence and self-esteem?
I am a lot more outgoing and willing to put my true self out into the world, and I have gained the ability to strike up a conversation with someone I don't know more easily. I feel more self-assured and capable of being on my own. If I work out in the morning, I also notice I feel more confident, energetic, and positive the rest of the day.
What challenges have you had to overcome on your fit journey?
Ah, too much. In high school, I got terrible shin splints from running. After gaining weight from not being able to run, I developed a terrible relationship with food and an eating disorder. I occasionally binged and purged on and off all through high school and college and my weight fluctuated along with my mental state. After junior year of college, I experienced a severe back injury, which also hit me about the same time as a thyroid condition and halted my fitness progress so I started gaining weight. That Christmas, I had a breakdown after seeing photos of myself. I started seeing a trainer and learning how to have a healthy relationship with food. I got the medical help and mental help I so needed and got my thyroid basically under control and my back relatively stable (with routine trips to the chiropractor, a massage therapist, and an acupuncturist, I now only have occasional flare-ups).
By college graduation, I was finally feeling on track. In law school, I started noticing some rashes and stomach issues, and was frustrated by catching colds all the time, which was really limiting my progress as I was trying to run my first 10k. Then I discovered my food allergies and doing a lot of research into the food with which I was actually fueling myself with. I stopped eating dairy and amazingly avoided getting a cold for over a year. While I cannot say I am 100% vegan because, you know, SUSHI, my meals are plant-based. If you want any advice on vegan diets, alternative products, how to make sure you are getting the right combination of foods and right portion sizes for gaining muscle, etc., feel free to reach out. Literally, I just haven't been able to give up sushi, so majority of meals are vegetarian/vegan. I'm happy to help!

What keeps you motivated when the going gets tough?
I am so close to where I want to be fitness wise, and I have some serious fitness goals to get to! I can't give up now! I want to run another 10k every year for Run10Feed10 this fall, which I started doing my third year of law school. Also, I have a Napa trip, a Vegas trip, and a Hawaii trip coming up this year. When you know you have to wear a bikini soon, you start really thinking about how you're going to look in it! I also just bought some measuring tape and I want to do a round of "just for me" bikini before and after pictures so I can keep myself accountable.

What do you wake up looking forward to and excited about everyday?
I first wake up looking forward to seeing my puppy's happy face – she always gives me so much love first thing in the morning and right when I get home from work. Then just generally speaking COFFEEEEEE! I refuse to live without it. And I love having my mid-morning "Meta D" by Tone It Up, which gets my metabolism going and takes like a shot of spicy apple cider.

Do you have any daily rituals?
YES YES YES!
During the weekdays, I wake up at 5am (I know, but bear with me), throw on clothes, and get my "booty call" work out in from 5:20-6 am. I then check e-mail (the stock market opens at 6:30 PST time), read the newsletters I get via e-mail, and practice Duolingo for 10 minutes on my phone all while I am walking the puppy for 20 minutes. If it is just way too cold to take my hands out of my pockets on our walk, I do a quick scan of e-mail before we head out, then walk her and do all the e-mail, etc. over my breakfast when we return. We return, I have either a smoothie, coffee protein shake, coconut milk yogurt with nuts/fruit (maybe granola), overnight oats, or something similar. I hop in the shower, and I head out to work by 7:30! Coffee and snacks/meals for the day in hand.
It's a great way to start my day and I feel prepared and ready to face the world. I also am NOT a morning person naturally, so by the time I get to work this way I've been up for a while and I have coffee in my system.

You have an intense work schedule, how do you maintain balance and make time for yourself?
ALL ABOUT THAT PREP. Over the weekend, I plan out all my workouts and meals for the week (which I then prepare on Sunday), which gets me pumped up and ready for the week ahead! I also realized (and realize over and over again) that I HAVE to workout in the morning because there are just going to be days that I don't have SoulCycle booked, I work late, or am too tired, and I don't get that evening walk or jog in.
If I work out in the morning, then at least I know, I've gotten even just that 20 or 30 minute workout in and can feel good about my day. Weekends are about recharging! I make sure to get one intense workout (usually Barry's or SoulCycle and then take one day to do yoga or relax a bit more and prepare for the week ahead). I also like to try to take a few minutes to either do my nails or a hair or face mask on the weekend.
What's in your gym bag?
I always have my spin shoes, a change of clothes in case I want to shower after SoulCycle (I get drenched!), makeup remove wipes (to help prevent breakouts), and lots of hair ties. I actually need to revamp my gym bag – thanks for the reminder! I need a brush in there and some eye drops.
What do you love about your body?
I love feeling in shape and I love being able to feel my muscles. I love that my body has bounced back from injury. I love that I continually push my body and that it has said yes, okay, I'll do this for you. I also love how flexible I am when I am consistent with yoga.

What does "Strong" mean to you and what makes you a Strong Girl?
Strong to me means continuing on the journey that is fitness and health! Being a Strong Girl means never being quite satisfied. Strong means strength not just in physical health, but also in mental, spiritual, and emotional health.
Right now, not only am I trying to make sure I am hitting my daily workout goals and get my eating back on track after my vacation home for Memorial Day Weekend, but I am working on the other health areas too.
For my spiritual health: I am working on listing out a lifestyle mission statement and a list of my strengths, as well as saying 3-5 things daily I am grateful for.
For my mental health: I am trying to read nightly and practice my French on Duolingo daily.
For my emotional health: I just bought myself a guitar to learn to play because I love music.
For all corners: I am trying to spend more time with Mara walking, running, and hiking.
What do you love about The Strong Movement?
I love that it isn't just about being thin! It's about being healthy and confident! It's about the journey and about making good choices, enjoying delicious healthy things, and working on being a better version of you.

SPEED ROUND…
Favorite Workout: Barry's Bootcamp, yoga, and SoulCycle!
Favorite Workout Song on Playlist Right Now? This varies weekly, maybe daily! I do have to say that "Downtown" (Macklemore) is the BEST for putting a smile on the face, dance, workout, etc.
Favorite Healthy Snack: Light protein packed smoothies are great post workout in the morning! Larabars, macrobars, or fruit and nuts/nut butter if I'm on the go! I also can't say no to a Pressed Juicery trip.
Favorite Fruit and/or Veggie: It's hard to find one I DON'T like. Except cucumbers. But maybe berries, bananas, avocado, broccoli, and asparagus (not all at once!)
Favorite Quote: Two come to mind. "If it doesn't challenge you, it doesn't change you" – that's something I heard at Barry's one week and fell in love with and is helping me now in a bit of a plateau I am trying to overcome. Another I love to remind myself of when I'm feeling really exhausted is that "something is always better than nothing!" This fuels my life. I list out a lot of goals for myself I know and I am constantly trying to do too much. Even I wake up late for a booty call, can just do a 15 minute something to get my body moving, if I can just push for a 10 minute walk with Mara, if I can just prep a basic salad for the week, if I can just list out 1 thing I'm grateful for, read for 5 minutes, etc. Every little bit counts in my health journey, and I ALWAYS feel so much better about myself and about my day. And I am guaranteed to make better food decisions when I've done a ten-minute workout rather than a "zero-minute" workout!
Let's connect… Sarah's Instagram
<a href="http://www.bloglovin.com/blog/14797481/?claim=jtjeq42drnq">Follow my blog with Bloglovin</a>