Strong Girl Spotlight
DOMINIQUE ASTORINO
Age: 25
Blogger
San Diego, CA
Tell us about yourself!
Well Hello! I'm Dominique, I'm very small, I grew up in San Diego, went to my dream school (USC!), worked for a cool surf company for a while, and recently went off on my own to pursue my dream of writing, blogging, and creating content.
I love making people laugh. I also love mermaids, music, Chanel, staying in to watch Harry Potter, living by and being in the sea, creating complicated custom drinks at Starbucks, getting manicures, cooking (and eating) food, and pretty stuff. I'm currently drinking a Lavenade from Suja, listening to BØRNS and doing this interview, and I'm really happy about all of it.
When did you discover fitness & healthy living and decide to make it part of your life?
I was never active growing up; in fact, even through college, I had never set foot in a gym, taken a yoga class, or gone for a run – ever (just did the math, and this means I've been inactive and unfit for 92% of my life… ah!).
My first job out of college was at a Nike company, so I was introduced to the Nike+ Running app and the amazing events Nike put on. A combination of the two (and an affinity for activewear) introduced me to fitness.
After my mom conned me into doing a 15k with her (almost two years ago), I got a taste of how good working out makes you feel. Long story short, I just completed my third half marathon, went from a 15 minute mile to a 9-10 minute mile, I go to yoga almost every day, and I love finding new ways to work out, be healthy, and treat my body right. Fitness has helped me through some of my toughest times emotionally and mentally, which is why I love the concept of The Strong Movement: Strong Body, Strong MIND!
How do you positively influence others to live an active, healthy life?
The first part is through writing and blogging. I went from physically inept to a fitness fanatic in a relatively short period of time; I've been sharing my journey on my blogs, beauty & the beach and None For Gretchen Weiners. I'm very honest with people, and never afraid to make fun of myself and show readers that if I can do it, literally anyone can do it.
The second part is just living by example (I'm definitely an over-sharer on social media); I love influencing friends and family. I invite friends to participate in events, go to classes, and sign up for half marathons. A friend just texted me last night asking what "my secret" was… so it's been fun and incredibly heart-warming to see that I actually can be a positive influence for others.

What do you wake up looking forward to and excited about everyday?
Usually yoga! Haha. I love doing a morning class to set my day off on a positive note. I also have learned to love myself a lot more this past year, and that's thanks in part to how well I've been treating my body. So each morning I'm really grateful for my life, and all the gifts God has given me. Life is really, really beautiful when you look at it from the right angle.
Do you have any daily rituals?
Yes! I had to set these up for myself because I wanted a "grown up routine." I wake up and oil pull before brushing my teeth, I stretch out, do my skincare routine, drink a room-temp glass of lemon water, and take a B12. At night, I do a similar skincare routine, take an Omega 3, and diffuse oils to help me sleep (and breathe) better – usually eucalyptus, lavender, sometimes ylang ylang or jasmine.

What's in your gym bag?
This has been a work in progress – it really feels like an art to pack the "perfect" gym bag, doesn't it? I love my little pink towel from lululemon, and my bkr or fitlosophy fitfuser water bottle. I also pack a Dove dry spray deodorant, dry shampoo, face wipes, all my toiletries (literally all of them), barre grip socks, extra underwear, bandaids, lip balm… and a ton of other stuff. Oh and ARNICA! That stuff is amazing – I have it in pill and cream form. You can see the rest here on my blog.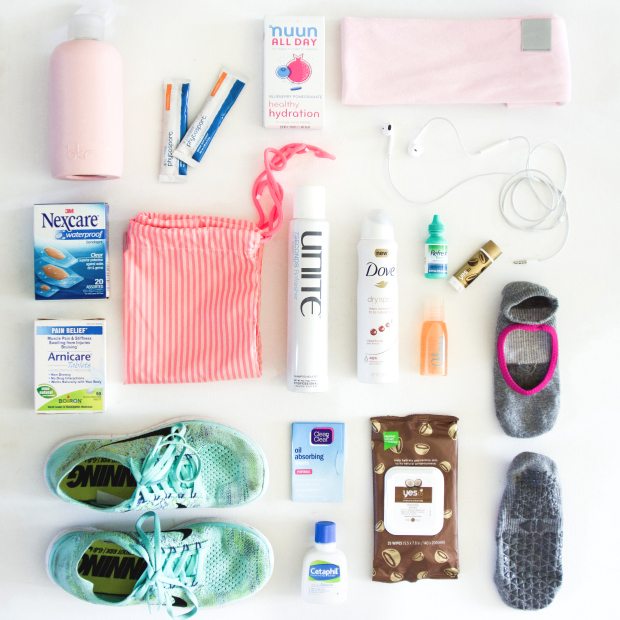 What challenges and/or injuries have you had to overcome on your fit journey?
My challenge was just how unfit I was to begin with – slow, no muscle tone, zero lung capacity (I had exercise induced asthma as a teenager, which I kept hidden by NEVER exercising). I was what most people would call "skinny fat," – I have been tiny and thin my whole life, but never fit. When I got started, it was discouraging to not be able to run a mile without stopping several times. But the transformation over the past year has been incredible.
What keeps you motivated when the going gets tough?
I've found that while running, it's a power song. Even if I'm getting that "my lungs are imploding" feeling, if the right song comes on, I turn on. Internally I'm just like "YES YOU'VE GOT THIS!" And I only just recently discovered this. Also, just reflecting on how far I've come, and how much I've transformed myself is motivating. Knowing that I can keep making my body better, stronger, and healthier is a powerful notion.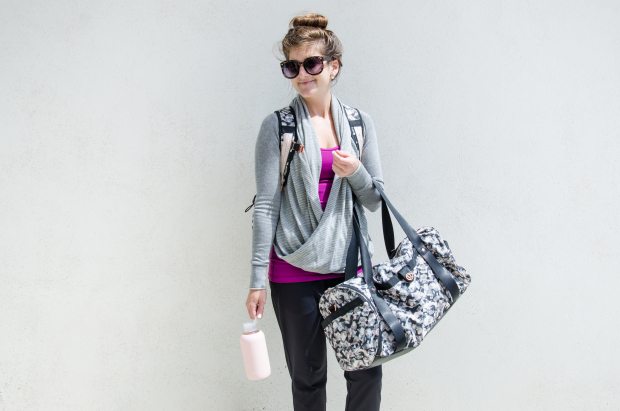 What do you love about your body?
My body has been a trooper! There have been days where I've gone to multiple classes, worked out for several hours, or ran distances I never dreamed of (which would still be considered short distance by more advanced athletes ;)) – and surprisingly enough I don't die. You think, "there's no way I could physically survive that kind of [workout/schedule/etc]." But I have learned recently that our bodies are really incredible, and can hold up to – and respond well to – really great challenges.
Who are Strong Women in your life that inspire you?
Despite her own physical challenges, my mom continues to walk half marathons, hike, backpack, bike, and SUP. She's my hero.
What does Strong mean to you?
To me, it means constantly challenging yourself to be better, in whatever medium, on whatever scale. It's that internal fire; no matter how small it is, it's still there, burning. Sometimes being strong just means getting out of bed and getting through a tough day, and sometimes it means pushing through burning muscles and pain during a half marathon in order to break your personal record. Sometimes it's mental, sometimes it's physical, and sometimes it's both. It doesn't always equate to activity, but I think it always equates to becoming a better version of yourself. Personal development – in all its forms – is strength.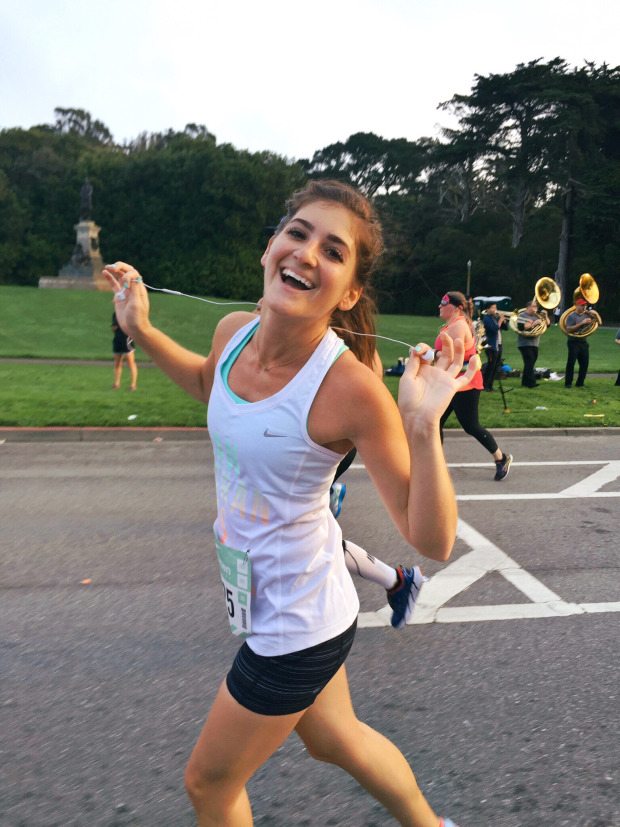 What makes you a Strong Girl?
I did a forearm plank for a minute today… does that count?
SPEED ROUND…
Favorite Workout:
besides Strong Movement (obvi), my go-to is yoga. Sculpt, Vinyasa, or Hot Fusion… I love it.
Favorite Song on Workout Playlist?
Jai Wolf – Indian Summer. That's my ultimate running song. Also loving Calvin Harris & Haim's "Pray to God" right now.
Favorite Healthy Snack:
This is a tough one!! I LOVE snacks, food, etc. Go-tos are coconut milk chia pudding with sliced mangoes and strawberries and shredded coconut; Alpine Valley Omega-3 bread, toasted with chunky peanut butter and honey; strawberry & vanilla protein smoothie from Mantra Yoga in Carlsbad.
Favorite Activewear Brand:
Sorry if this is a boring answer, but Nike and lululemon. That's honestly all I own. I have a pretty solid sneaker collection from Nike.
Favorite Fruit and/or Veggie:
COCONUT
Favorite Quote:
Jeremiah 29:11. Also –
"Who you become is infinitely more important than what you do, or what you have." – Matthew Kelly
Favorite Inspirational IG Account You Follow:
@kirstygodso – life goals
Let's connect…
Website: beautyandthebeach.co
Instagram: @dommymichelle
Twitter: @dommymichelle