The Strong Movement: STRONG GIRL GUIDES™

8-WEEKS TO A STRONG BODY, STRONG MIND + MORE CONFIDENT YOU!

 With the Strong Girl Guides you will discover how to become your best, create healthy habits and radiate positive energy and confidence in just 8 weeks!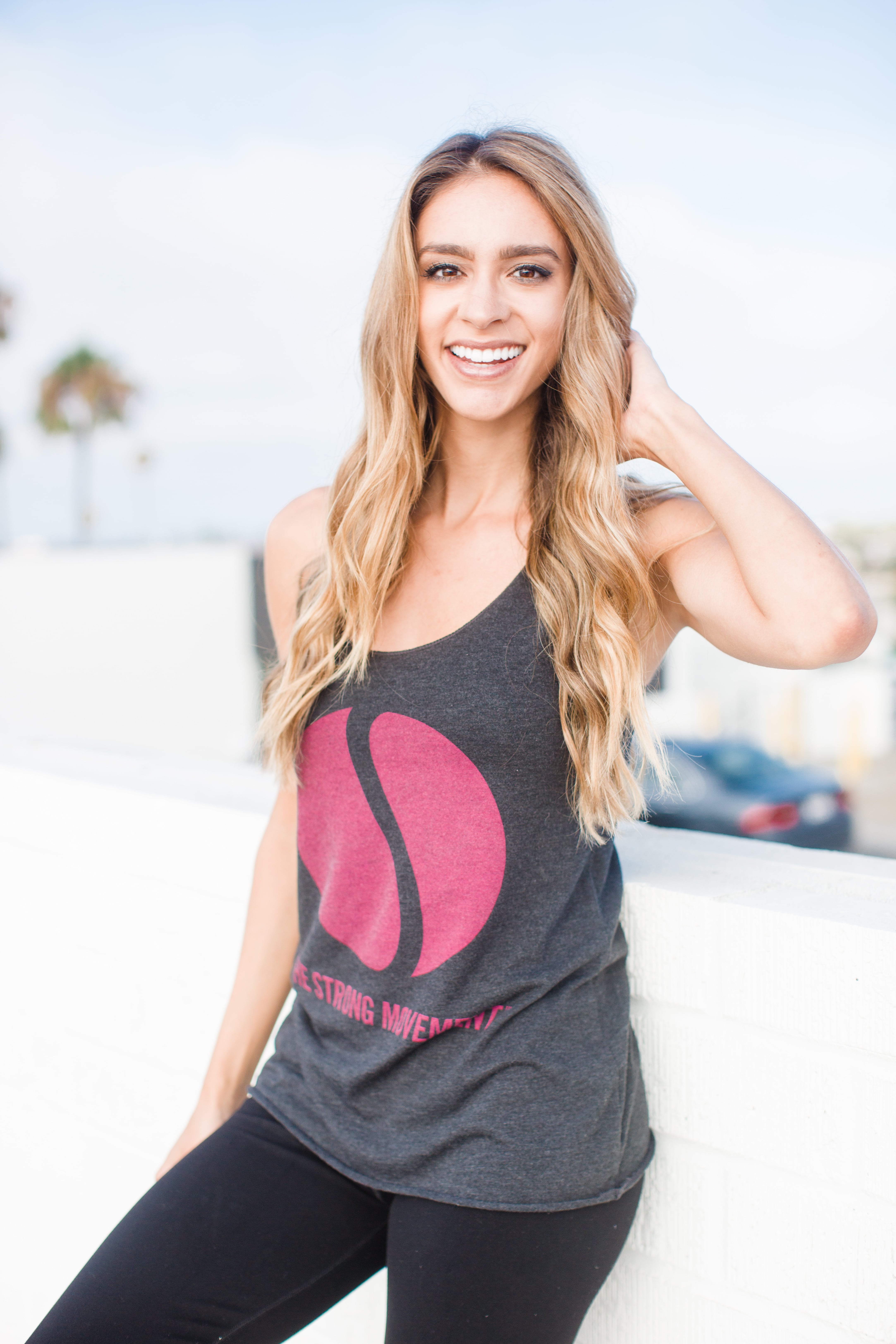 Like many young women, when I moved away to college for my Freshman year at USC in 2008, I didn't know how to workout, eat healthy or maintain a healthy college lifestyle. Going away to college is a huge lifestyle change in it of itself and there weren't any resources to help women, like me, make the transition in a healthy way. It was only a matter of time before I gained the freshman 15 and lost a lot of energy and confidence in myself. The school gym was extremely intimidating and on top of that I didn't know what to do when I would go to workout, so I would just do some cardio and abs. Unfortunately, the dining halls didn't offer healthy options and things I thought were healthy weren't in actuality healthy at all. I know many women share this same struggle while they're in school and even after graduating, which is why I created the Strong Girl Guides!
The Strong Girl Guides were written with the formula I used to learn how to workout and eat right and develop the right mindset to achieve my dream mind and body! These guides are filled with everything you need to know about working out, eating healthy and creating a positive mind and lifestyle for success! You will gain confidence in the gym, in the kitchen, but more importantly, in yourself, so that you can go out there, make things happen and live your dream life!
The Strong Girl Guides are easy to follow with detailed step-by-step action guidelines to apply to your life and transform your mind and body!
Strong Girl, you deserve the best! I'm so excited to welcome you to The Strong Girl Sisterhood and I'm honored to be a part of your journey!
LOVE + SWEAT,

xoxo
THE STRONG GIRL GUIDES WILL HELP YOU
• Radiate energy, happiness + confidence!
• Look, feel + become the best version of yourself!
• Join a supportive community of Strong Girls
• Achieve your fitness, nutrition + healthy lifestyle goals
• Learn how to set goals, create affirmations & visualizations + develop a more positive attitude
• Learn what healthy foods to eat to fuel yourself with nutritious brain boosting foods + build the body of your dreams
• Learn about fitness, how to workout, get started in the gym + be guided through the process with effective workouts to speed up metabolism & tone up
• Burn fat, lose fat + slim down
• Gain strength and build muscle + feminine curves
• Get toned, lean + healthy
WHAT YOU GET WITH THE STRONG GIRL GUIDES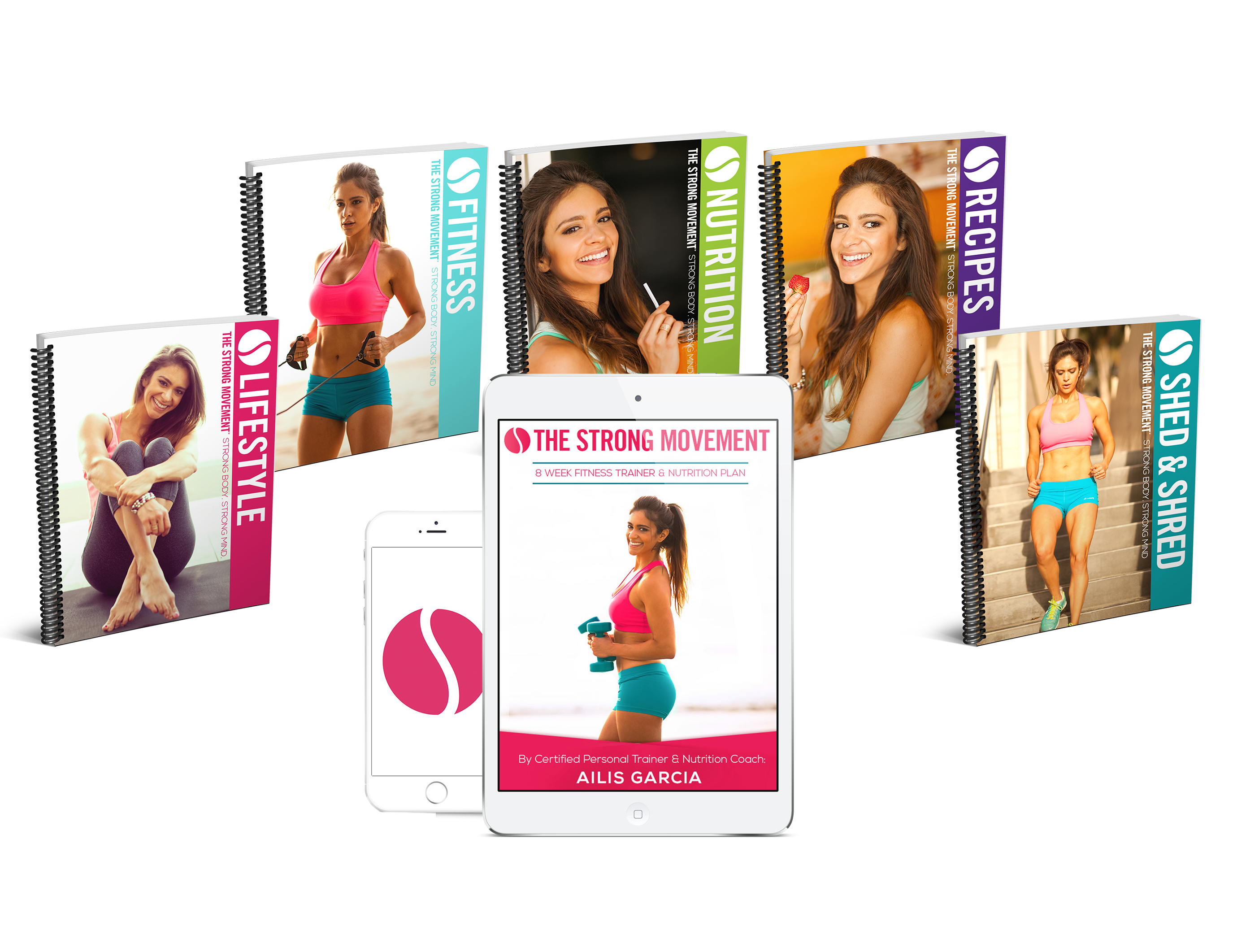 • STRONG GIRL GUIDES BUNDLE (7-DIGITAL DOWNLOADS)
• STRONG GIRL WELCOME GUIDE
• STRONG GIRL LIFESTYLE GUIDE
• STRONG GIRL FITNESS GUIDE + 8-WEEK GYM WORKOUT PLAN
• STRONG GIRL EXERCISE GLOSSARY GUIDE
• STRONG GIRL NUTRITION GUIDE
• STRONG GIRL SHED + SHRED
•

MEMBERS ONLY:

ONLINE TSM MEMBER PORTAL 
•

MEMBERS ONLY:

ACCESS TO 75+ "HOW-TO" GYM EXERCISE VIDEOS ONLINE 
•

MEMBERS ONLY:

STRONG GIRL DISCOUNTS + PROMOS
•

BONUS:

STRONG GIRL GUIDE LIFETIME MEMBER: ALL-FUTURE STRONG GIRL GUIDES UPDATES AND DOWNLOADS (EX: V2.0, V3.0, ETC)
WHAT'S INSIDE THE STRONG GIRL GUIDES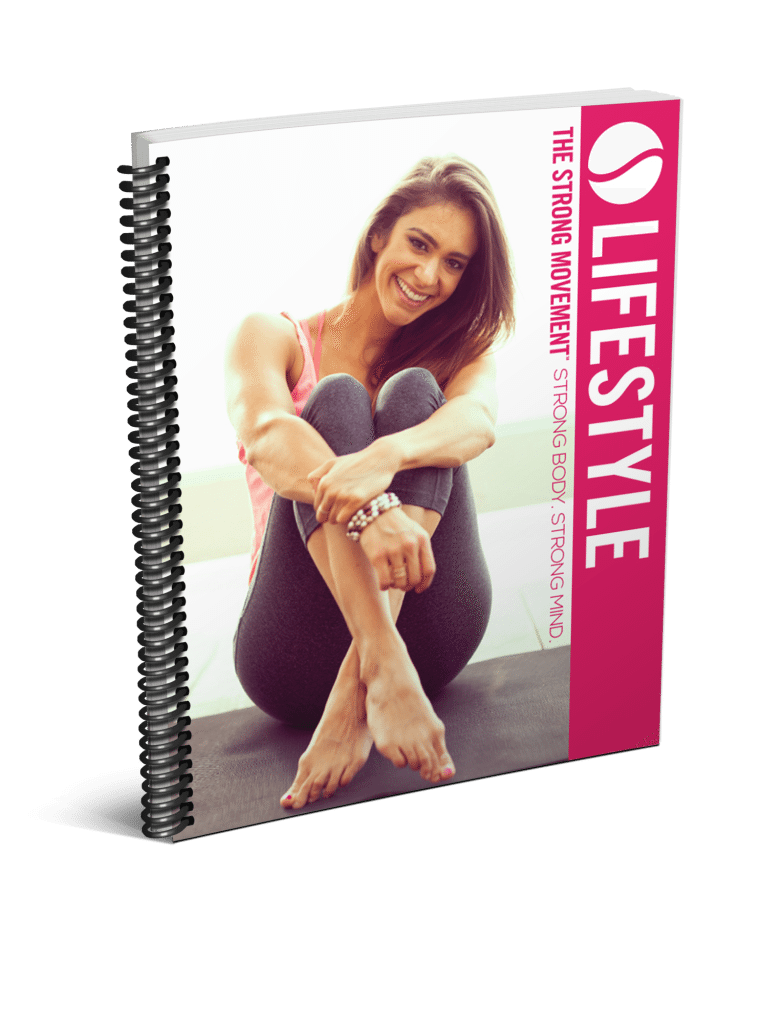 STRONG GIRL LIFESTYLE GUIDE
The Power of Visualizations & Affirmations
Build A Strong Mind to Boost Confidence & Self Esteem
Strategic Steps to Set Goals & Achieve Success in all aspects of life–fitness, nutrition, personal & professional.
How to Measure Progress: Mental & Physical
Tips & Secrets to the Strong Girl Lifestyle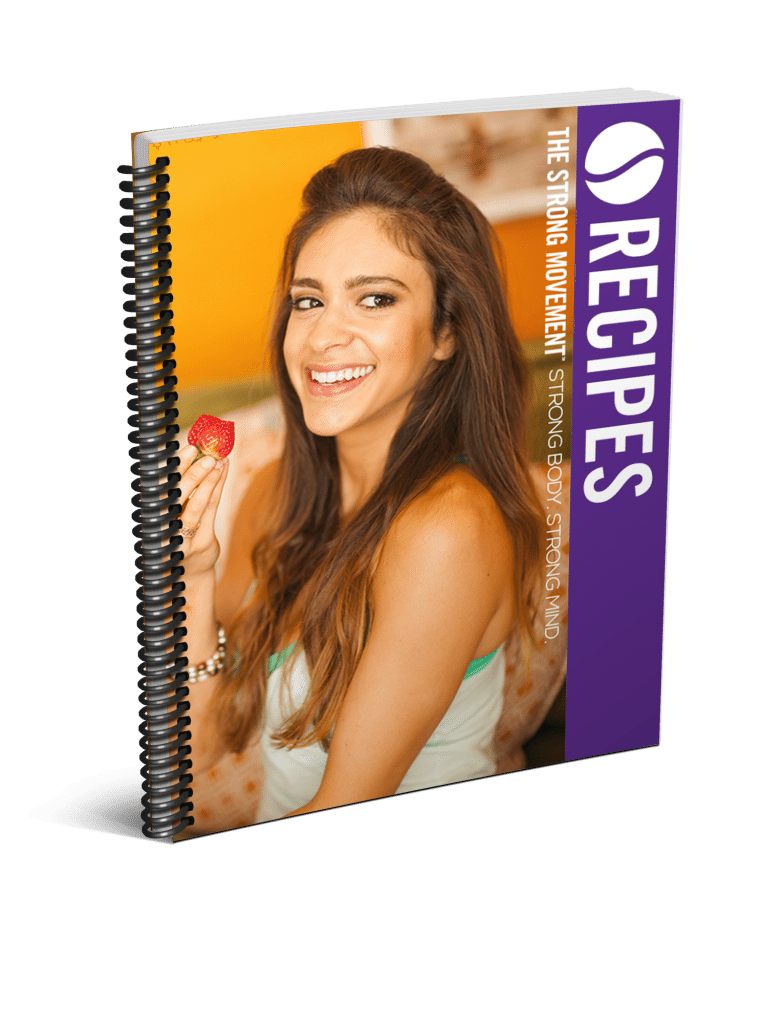 STRONG GIRL RECIPE BOOK
Over 75+ Strong Recipes
Pancakes, Mug Cakes, Oatmeal, Eggs
Protein Shakes & Juices
Sauces, Marinades, Dressings & Dips
Soups & Salads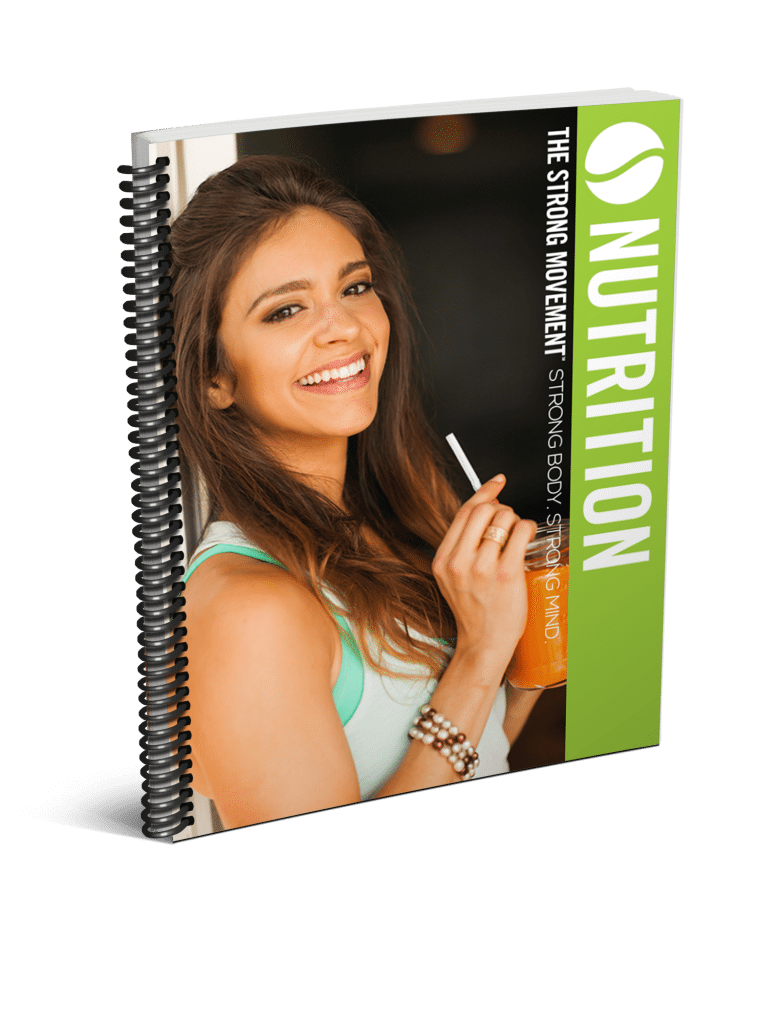 STRONG GIRL NUTRITION PLAN
Custom Macronutrient Meal Breakdown: Calculate Your Daily Calories, Carb, Protein & Fat Needs
Meal Guide Based on Time of Workout
Guide to Eating Out
To Juice or To Blend
Grocery List
Supplement Guide
& MORE!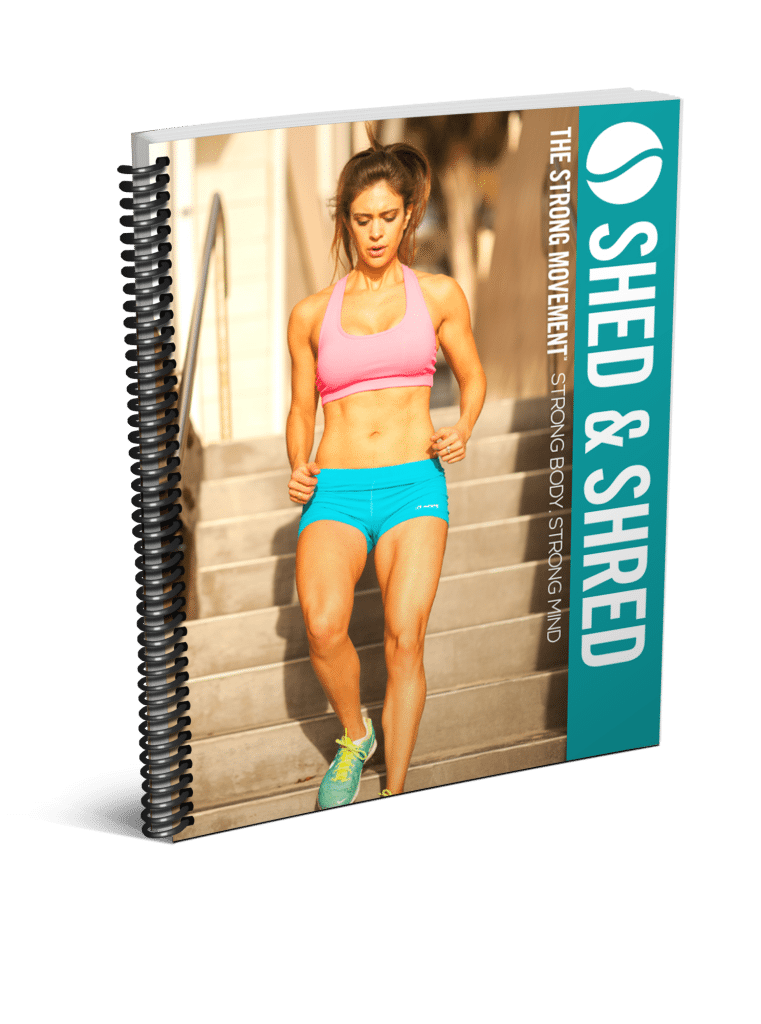 STRONG GIRL 7-DAY SHED & SHRED
Step-By-Step 7-Day Plan to Your Best "You" for that Special Event
How to "Shed" & Debloat
7-Day Meal & Workout Guide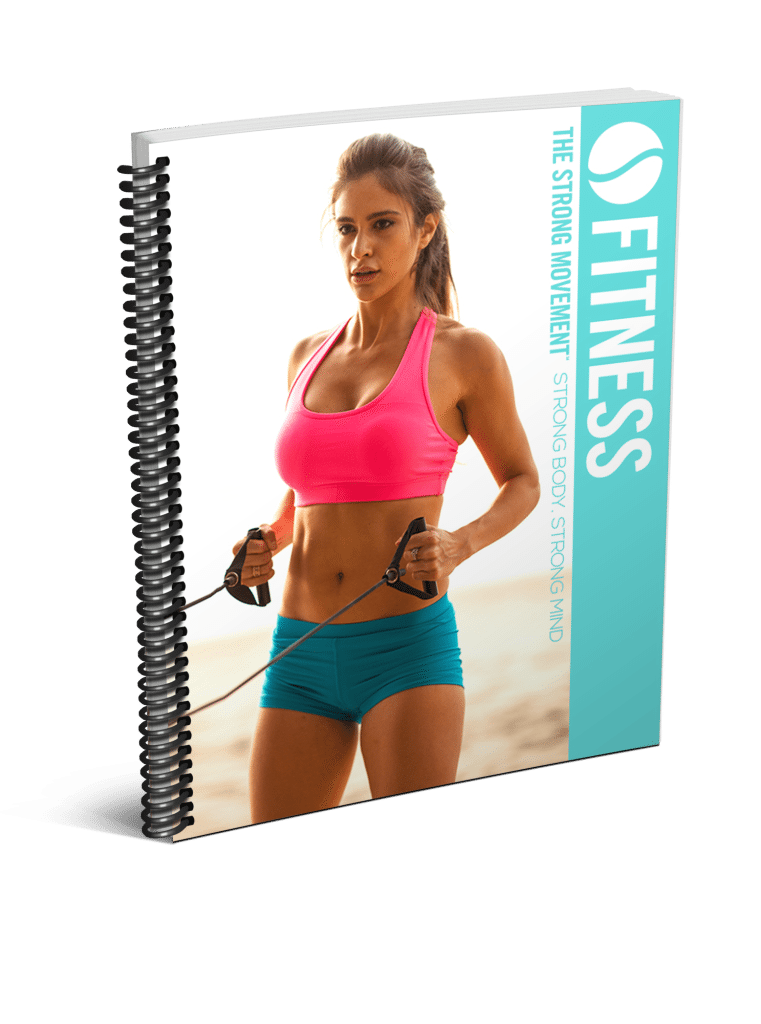 STRONG GIRL FITNESS PLAN + 8-WEEK WORKOUT GUIDE
Benefits of Strength & Resistance Training
Cardio Training for Maximum Fat Loss
8-Week Step-by-Step Gym Training Guide & Workout Calendar
Daily Workouts with Exercise Descriptions
Access to over 75+ Exercise Videos (Watch Sample)
Flexibility & Stretching Guide
BONUS: 7 Ab Workouts
BONUS: 4 Booty Workouts
SAMPLE EXERCISE VIDEO FROM STRONG GIRL FITNESS GUIDE
Purchase comes with Members Only Access to these Exercise Videos from the Strong Girl Fitness Guide
STRONG GIRL TRANSFORMATIONS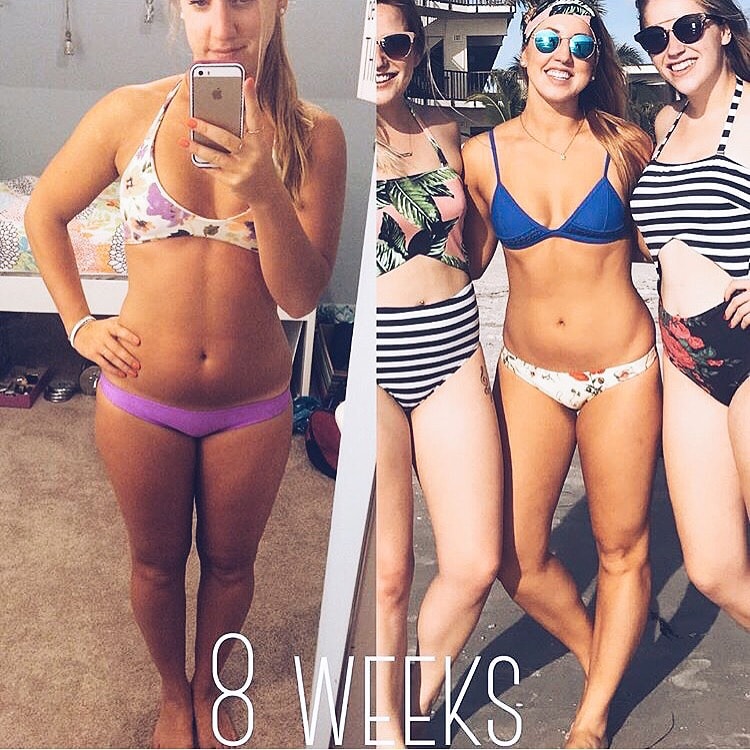 "HELLO BEAUTIES! In the midst of the crazy prep for this past weekend, I never took an "after" picture from my 8 weeks of mixing these two amazing programs and finishing my FIRST round of @thestrongmovement🙈 so, here's a comparison from the start of this to this past weekend… And honestly, I'm so happy. NOT because I feel like this is a phenomenal transformation, but because of how COMFORTABLE I felt on a beach in a bikini this weekend😁🙌🏻
My eating hasn't been very on point the last few weeks, but I LOVED the mix of lifting, plyometrics, and HIIT, and I didn't care at all how I looked this weekend because of how amazing I FELT💛💛💛 maybe it was because I was around such genuine, supportive people, or maybe it's because I felt strong and confident… But the key is always to just keep going. No matter what. Even if it isn't perfect. Just keep moving FORWARD and paying attention to how your body feels, NOT the way it might change👌🏻 THAT is what will keep you motivated😘"
– @sorbet.shea
"For anyone that saw my Facebook post a few weeks ago. Here is my progress! The first photo was 2 weeks into working out last semester till now. 27 pounds gone over 4 months! I'm so happy I fell in love with a healthy lifestyle that just started by a few trips to the gym to relieve stress. My mood, determination and overall health has improved dramatically. I did this by minor changes to my diet, exercising with friends and using exercise guides shared with me by the wonderful @thestrongmovement. Thought I should share not because im proud of myself for accomplishing this progress, but also to encourage everyone to strive to be healthier as well! It's truly life-changing!! ❤❤"
-@aquaamarina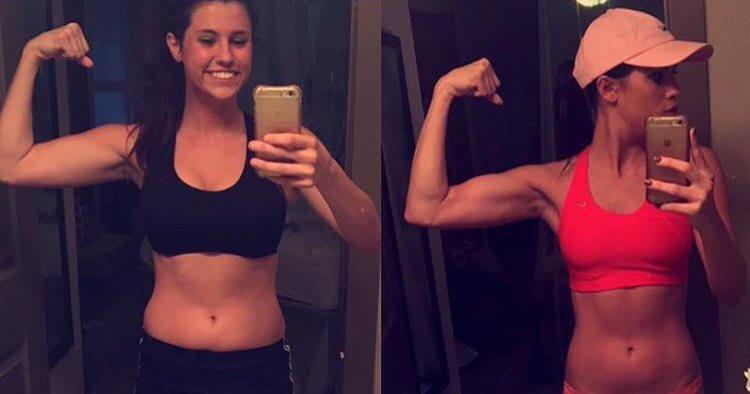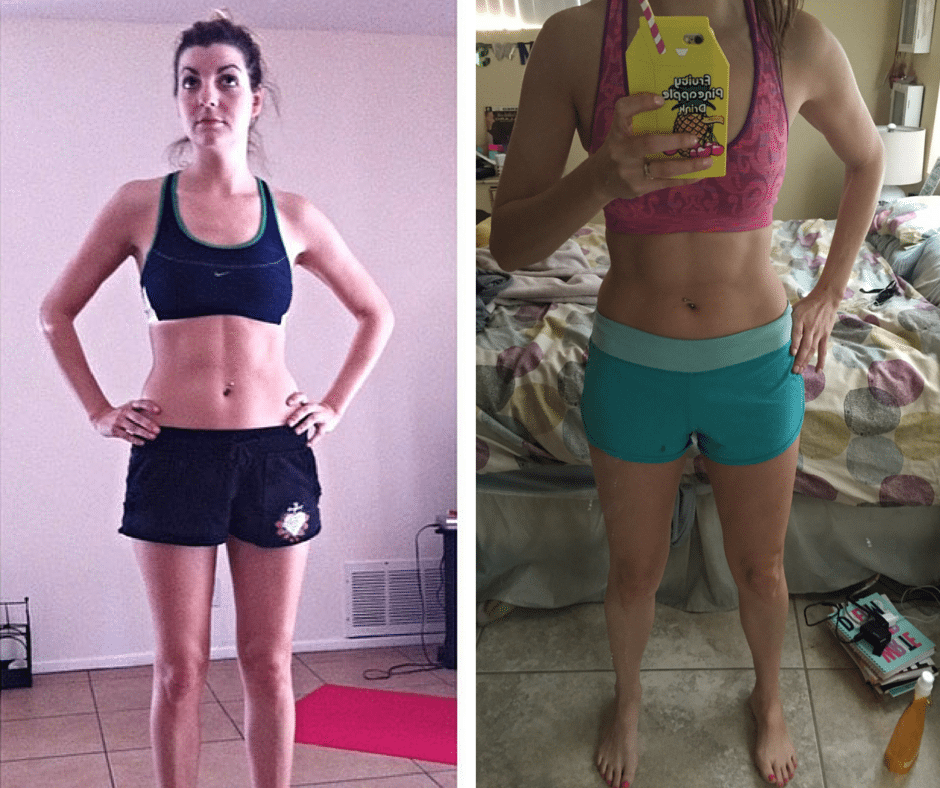 "The Strong Movement got me in incredible shape for my wedding. I can now say I'm in the best shape of my life. Each strong girl workout challenged me but also showed me what I can complete if I put my mind to it. I learned so much about what and when I should be eating and learned that weights are a girls best friend. This program pushed me to the next level of my fitness. I feel stronger, healthier and have more energy than ever before. I am always excited to get another workout under my belt and with this program going to the gym is no longer a chore. The strong girl guides have everything I needed to change my body and mind for the better. I'm so happy that I did this program and can't wait to do it again!"
-Genevieve Melzer
"Yesterday I put on a size 6 pair of jeans…size 6…I have never done that in my adult life, possibly even my adolescent life!  I love the workout chart, I have a snapshot on my phone!" –Aixsa M.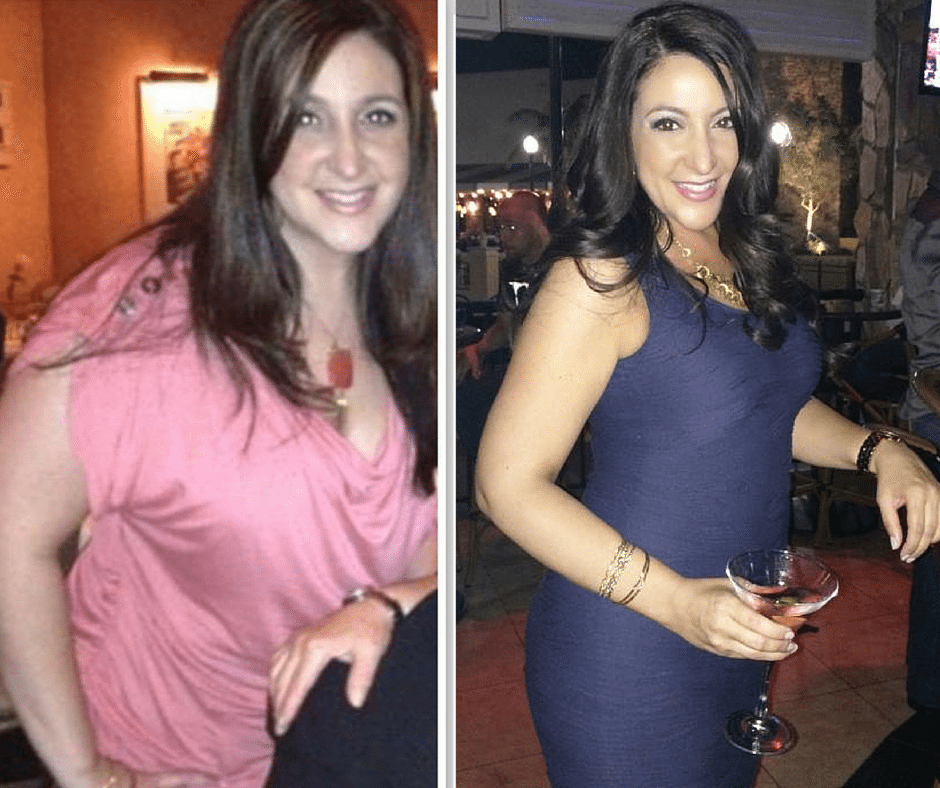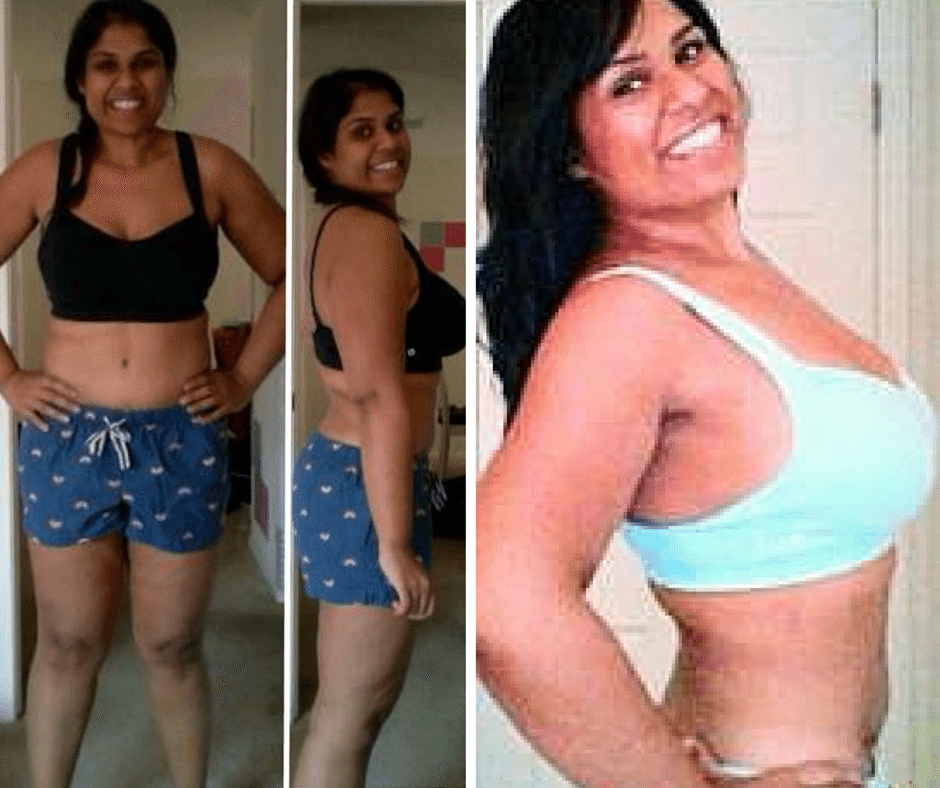 "I've started and finished more exercise programs then I can remember. Results ranging from mediocre to fair. Strong movement was different. As a health care provider I've run across many trendy programs, and "how is this realistically supposed to work?" has crossed my mind more times then I can remember. There was both a diet plan that was actually possible on a physician schedule and a work out that was customized so that I could get results.
I lost a total of 18 lbs and am enjoying the energy and smaller sized clothing. The plan is simple and can be followed through with awesome results if you're willing to put in the time and effort. Thanks again for my revamped strong fit curvy body! The 7 day Shed and Shred is exactly what you need for a quick boost in your doldrum workout routine.
The exercise routines are challenging, but not more than you can handle. That combined with the diet plan will leave you feeling energized and with a tighter midsection. It's just what you need to advance your already strong foundation towards a healthier lifestyle."
– Dr. Yasmin Akhunji
ARE YOU IN? GET STARTED + JOIN THE STRONG MOVEMENT TODAY!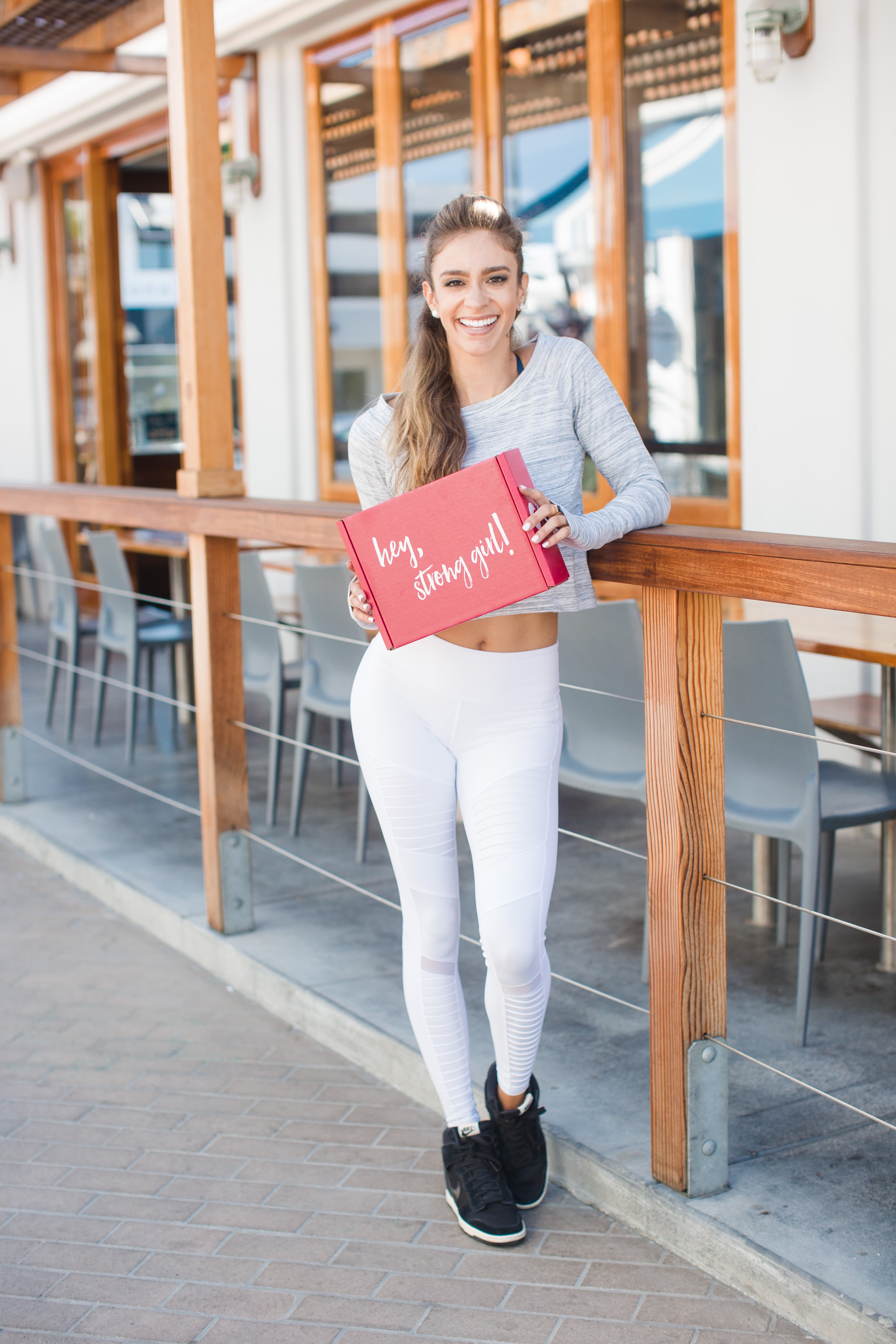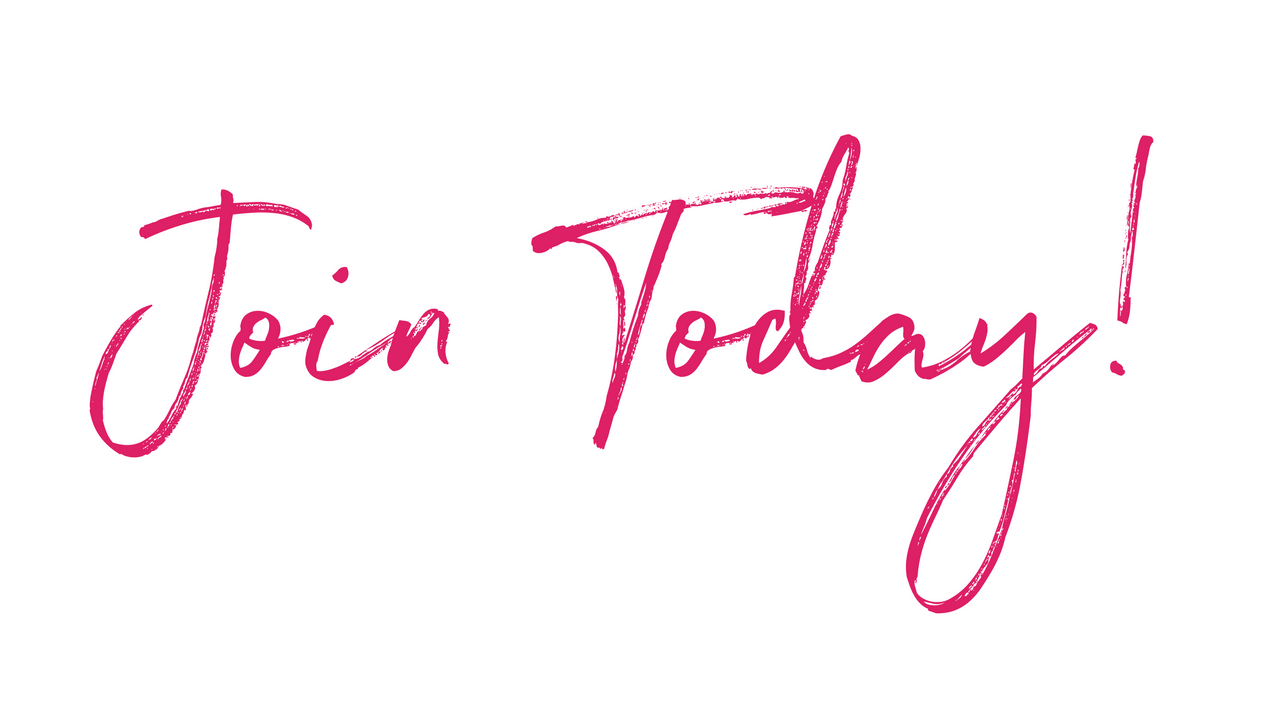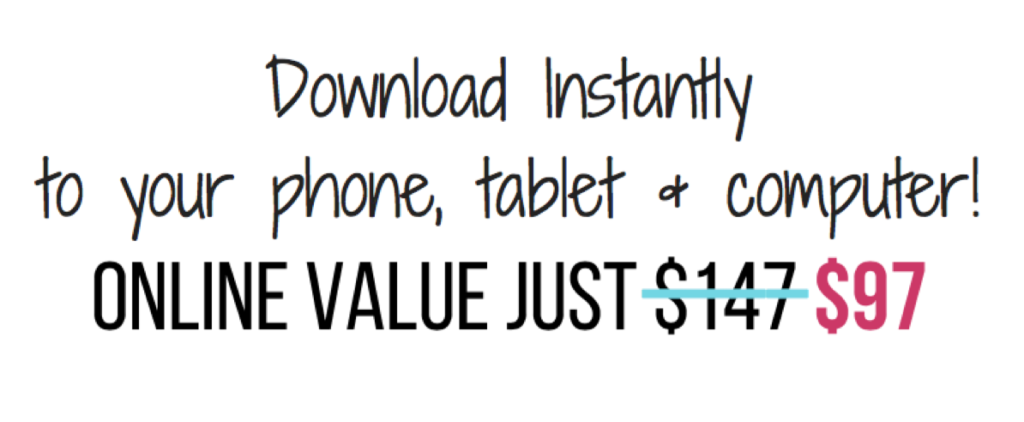 What are The Strong Movement™: Strong Girl Guides?
The Strong Movement™: Strong Girl Guides are eBooks written & created by Ailis Garcia.  The bundle includes 6 downloadable Guides (eBooks): Strong Girl Lifestyle Guide, Strong Girl Fitness Plan, Strong Girl Exercise Glossary, Strong Girl Nutrition Plan, Strong Girl Recipe Book & the Strong Girl 7-Day Shed & Shred.  You will also receive an Introduction Guide with your bundle purchase.
How will I receive The Strong Movement™: Strong Girl Guides Bundle after purchasing?
You will receive an email with a link to a digital download file of each Guide you have purchased with your Strong Girl information stamped on the inside. The file will only be available to you and cannot be shared. You will also receive instructions how to view the Guides on your computer and across your devices.
What types of workouts does the Strong Girl Fitness Plan include?  What can I expect?
The Strong Girl Fitness Guide contains an 8-Week Workout Guide with 4 Phases of progressive training–meaning you will do the same workouts for a given day for two weeks before moving onto the next phase. Each phase challenges your body in a different way, so that you can build muscle and torch fat.
The calendar inside the Strong Girl Fitness Plan will tell you what workout you will do every day. There are 4 days of workouts per week with the option of adding in bonus workouts (cardio, abs, booty) if you choose. The daily workouts are split by body type and are made of strength and resistance training exercises.  Each workout should take about an hour or less to complete in the gym. If you choose to extra reps or add optional exercises, it may take longer to complete.
You can complete these workouts anytime throughout the day. The sample meal guide in the Strong Girl Nutrition Plan will give you examples of how to structure your diet and macronutrient intake around the time of day you workout, so that you can get the best results.
Strength & resistance training….does it bulk you up?  Wait, is there a difference?
The Strong Movement™ Strong Girl Fitness Guide explains this answer in detail. However, you will not turn into the hulk unless you are injecting testosterone into your body and taking steroids! So quit believing that myth, will ya?
Can I workout at home?
The 8-Week Workout Plan inside the Strong Girl Fitness Guide was designed to be completed in a gym or fitness facility. I believe in surrounding yourself with like-minded, active people (& other Strong Girls!) to help reach your fitness goals. Getting to the gym is the hardest part, but once you're there, you'll be in the right mindset to kill your workout!
There are variations of the workouts you may perform at home. However, if there are enough requests, an At-Home Version may be created. You can also check-out our FREE 1-WEEK At-Home Workout Here!
Are The Strong Movement™: Strong Girl Guides suitable for everyone?
The Strong Movement™: Strong Girl Guides were developed for girls of all ages whether you struggle with your weight and body image or have been working out your entire life. Strong Girls are new moms, athletes, women just getting into fitness, women making a new lifestyle change, high school girls, college students, college grads, professional women, fitness fanatics, women who want to maintain or just want more energy and confidence! There is a STRONG GIRL inside everyone! Just make sure you are in good health, no current injuries and have complete clearance from your doctor!
What if I'm a beginner and have never worked out?
This is exactly why I created and wrote all of the Guides in the series!  I wanted to help women learn how to properly workout at the gym to get the results they want.  There is a description of every exercise in the book, as well as over 75 Exercise Videos that I filmed to show you how to properly use the equipment and do the exercises. The workouts in the Strong Girl Fitness Plan are adjustable to your level. I encourage everyone to challenge themselves to see the best results. You can raise or lower the amount of weight to adjust it to your level. You can also add or decrease the amount of sets you perform.
What if I'm experienced in the gym or already a workout junkie?
Great!  I'm excited for you to challenge yourself with the Strong workouts and take your body to the next level.
I eat a Vegan, Vegetarian and/or Gluten-Free Diet. Does the Strong Girl Nutrition Plan and Strong Girl Recipe book adjust for those dietary preferences and/or restrictions?
The Strong Girl Nutrition Plan & Recipes were created for a balanced diet rich in a wide variety of foods including animal sources, so that you can get all the nutrients your body needs to fuel itself. I have seen the best results consuming animal sources for protein. However, the Strong Girl Nutrition Plan is customizable, so you can adjust your diet and the recipes to fit your needs!
What is the return policy?
There are no refunds or returns for any digital downloads purchased.